Bar for Patout's Restaurant
Having the honor to fit the need of Alex Patout's Restaurant's second floor dining room, along with working closely to Gootee Construction. We hope you enjoy viewing these photos half as much as we enjoyed building, finishing, and installing our work.
This is a service bar in the upstairs dining area. It is made of old sinker cypress pulled from the swamps of the lower Atchafalaya Basin. We sawed the cypress into boards then stacked with sticks, as spacers, and let them air dry.
The bar is stained with three coats of water base Red Mahogany and finished with water base finish of excellent durability and beauty.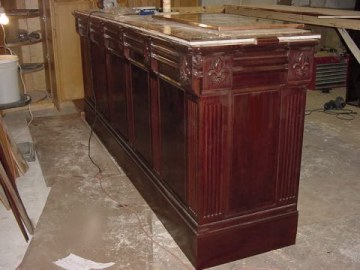 Back to southernqualitydesigns.com main page...........
All designs are Copyright © 2000-2005 Southern Quality Designs™ Inc. ... All Rights Reserved